Rare moments with Dr. APJ Abdul Kalam
Dr. Abdul Kalam is one of the rarest of personalities India has seen, in recent times. Here is a man whose humility remained intact in spite of the high offices he adorned. Here's a man who rose to heights, thanks to his sincerity, hard work and determination. He has been an eternal inspiration to young and old alike. He charmed all he met, and left an indelible impression on them by sheer force of his sincerity, childlike simplicity, and great dreams for a better India.
Let me recount three occasions when I met him.
We invited Dr. Kalam to address a conference of Principals in May 2002, when he was with the Anna University soon after demitting his official assignments in the Defense Ministry. This conference was held in the Christu Jyothi College in KR Puram, Bangalore. That was the time he started visiting schools. I invited him to Little Rock. He agreed and asked his Secretary to give me a suitable date. This was my first meeting with Dr. Kalam. We had tea with him, and exchanged some views on schools in India. I was one of the Principals on the organizing team of this Conference, and so had easy access to him.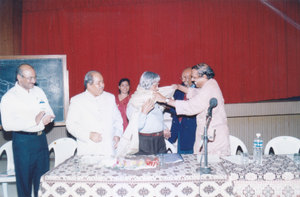 Soon things took a dramatic turn when his name was chosen to be the President of India in July. So our plans to invite him to Little Rock did not materialize. We tried to invite him again last year for the AICS Decennial Conference, but he was not available at that time.
Within a month of his becoming the President of India, Little Rock was chosen for the Computer Literacy Excellence Award by the IT Ministry of Govt of India. One school was chosen from each State to receive this award, and Little Rock received it for Karnataka State. Pictures below show Dr. Abdul Kalam handing over the award.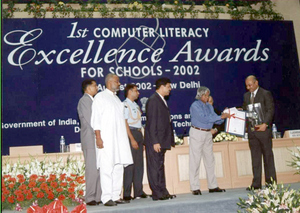 The next opportunity came in 2012 when our students won the State Championship and National Runners-up trophies at the inter-school Rural IT Quiz contest conducted by the IT Ministry, Govt of Karnataka and TATA Consultancy Services. Dr. Abdul Kalam was the Chief Guest at the function held at Chowdiah Memorial Hall in Bangalore. The first picture shows Abhishek Rao and Swastik Udupa receiving the trophies. The next picture shows the Principal and the Vice Principal and our Computer Teacher Mr Shaji Devarajan with Dr. Kalam.
At this function we saw how young students adore him. We saw how he received a standing ovation at nobody's prompting when he entered the auditorium and when he ended his speech. He was and is a hero to students all over the country. He showed teachers how to connect with students, even though he was such a learned scientist.
A GREAT MAN SUCH AS DR ABDUL KALAM RARELY STRODE ON EARTH. MAY HIS SOUL REST IN PEACE!